My Fourth of July Favorites and What This Holiday Means to Me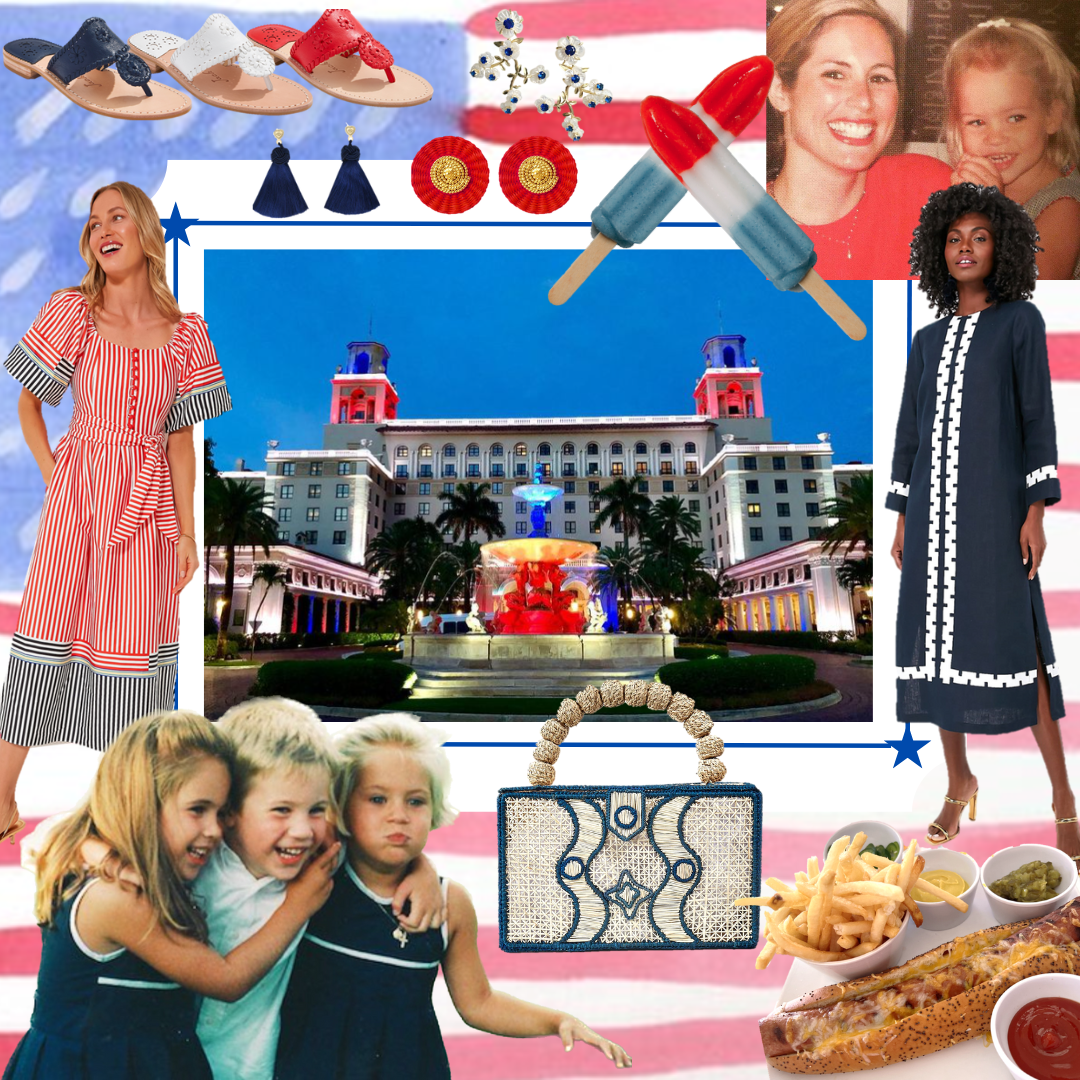 I love the Fourth of July. Not only is it one of the best days of the summer, but it is also a day of patriotism and pride living in the Land of Opportunity, the United States.
Before I go into all the fun accessories that I found, I want to share why I love America so much. As a child of immigrants who fled Communism in Cuba, I never take my freedom for granted. My parents will not allow it! We are so lucky to live in a country founded on unshakeable principles written by our Founding Fathers that were brilliantly thought out and transcend time. I love the United States and am forever proud to be an American!
The Fourth of July is also full of some of my favorite memories with my kids. We would often go to The Breakers in Palm Beach, where that photo in the center and that incredible-looking hot dog in the corner is from! They go all out every year; it is the best place to be on the Fourth.
Now, onto the accessories!
Red, White, and Blue Dresses
No surprise here; I went right to Tuckernuck for dresses. This red and white striped poplin one would be so cute for a barbecue or party outside. Especially in a climate like Texas, cotton is a must to help stay cool. Given the temperatures lately, though, if people are not at their lake houses, they will be by the pool or in the air conditioning. I also loved the detail on this navy one; linen is a beautiful summer fabric.
The Accessories to Complete Your Look
No outfits are complete without jewelry and the perfect handbag! I chose three different types of earrings; two are more casual, and one is a stunner if you are spending the Fourth at the club. The first are these gorgeous navy tassels from Hart Studio. This Charleston-based jewelry brand has been a longtime favorite of mine; my kids gifted me this Mama Heart necklace for Christmas last year, and they each picked out a charm that represents them!
The next is once again from Tuckernuck. I love a statement stud; they are a great option if you don't like to wear dangly earrings or don't like the weight of a dangle. These red ones are also partially a natural material, so they will be very lightweight while still providing a pop of color.
As the last statement earring, I went with Texas-based designer Nicola Bathie. She has the most exquisite pieces; these blue and white beauties are no exception. They would be a stunning addition if you are headed to a more formal Fourth soiree.
My last two items are the must-have navy ASHA bag we carry in our retail shop. It is sold out on their website and is one of my favorite bags we carry! I love the navy detail, but if you would prefer to go neutral, we have that one too. Lastly, who could pass on a classic pair of Jack Rogers? I also loved these with the American Flag, but they are nearly sold out! The perfect sandals for the Fourth and any day in our great country.
How are you spending the Fourth of July? From all of us at Dunbar Road, we wish you a wonderful holiday!