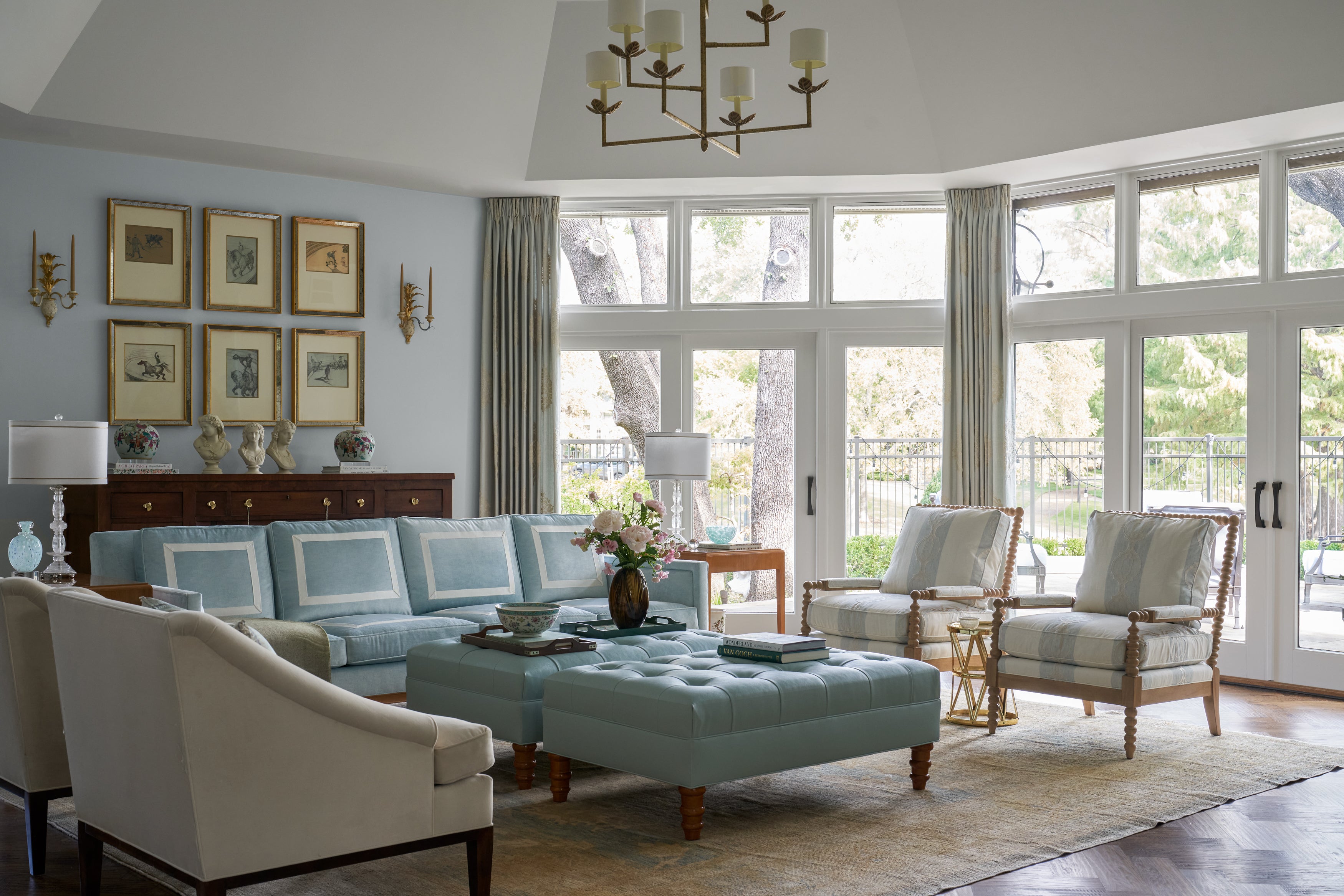 When you step into a home that a designer has touched, it is unmistakable. You can see and feel the thought that went into making each room exquisite and curated. Above all, you get a sense of uniqueness in a professionally designed room, and that is due in large part due to the details that custom artisans have the power to do. Today I am going to tell you about my favorite design details I love to use in every design I create.
Tape and Fringe
Nothing completes upholstery or drapery like using various tapes and fringe. It adds a totally bespoke flair to any piece; you can add it to the cushions, along the bases of each piece, down the sides, everywhere. One of my favorite items in the shop, the Blue Mohair Sofa, has a Schumacher tape added to the bottom to bring in yellow and stand out against the blue. I also love the Rolled English Arm Sofa with green bamboo tape. We have it cascading down all four sides. Fringe also had the same effect; adding it to a sofa gives a more elevated and formal look. You can add both tape and fringe to drapery as well on the leading edge, which is one of my favorite techniques to incorporate into drapery, which I will talk about next!
Drapery Techniques
You can make so many different styles of drapery. I always do a tape or bouillon fringe on the leading edge, but what we do for hardware and on the tops of each panel varies by project. In a very traditional home, we would likely stick to satin brass hardware with a French return that wraps around the edges of the windows. We are big fans of pinch pleats, either double or triple. We also love adding cording above each pleat for added detail! The options are truly endless.
Piping and Tufting
If you ask my designers, they know I love piping. Especially contrast piping, where you can incorporate a different color to tie in the rest of the room. When it comes to pieces like ottomans, which are prone to dirt and spills, I love to use two faux leathers, like the one we have in the shop! Something I also like to incorporate into upholstery furniture is tufting. Tufting has a very traditional reputation. However, there are ways to tuft that can easily be incorporated into more contemporary spaces. The key is for the tufting not to be so deep; when the divots are shallower, they look very sleek with a button detail in the same piping faux leather.
Templated Rugs and Runners
A templated rug is a rug that is cut specifically for a room. They are necessary if you have an irregularly shaped room, but often we use them in our designs to accommodate a fireplace and hearth, furniture, electrical outlets, and other room components. Beyond their functional need, templated rugs are the only way to go; they add such a beautiful look to any space. We also always do stair runners in a coordinating rug for the upstairs area.
The Finishing Details: Pillows and Lampshades
My two favorite styles of pillows that we make the most are boxed and knife-edge. When we box pillows, we either pipe the edges or add a double flange with butterfly corners. To bring things full circle as well, I love adding tape to pillows, whether that is in a square shape, a single tape down the center, or two thinner tapes on either side. Lampshades are also such a fun way to get creative with your décor. You can take any linen fabric and make it into a beautiful lampshade; you can add pleats, a decorative grosgrain ribbon on the top and bottom of the shade, scalloped edges, and more.
I love what I do and love that I get to incorporate these and so much more into the work we do here at Dunbar Road Design. These details to me are the reason to hire an interior designer; we have the power to make all your furnishings and décor completely unique.