My Must-Have Items on Vacation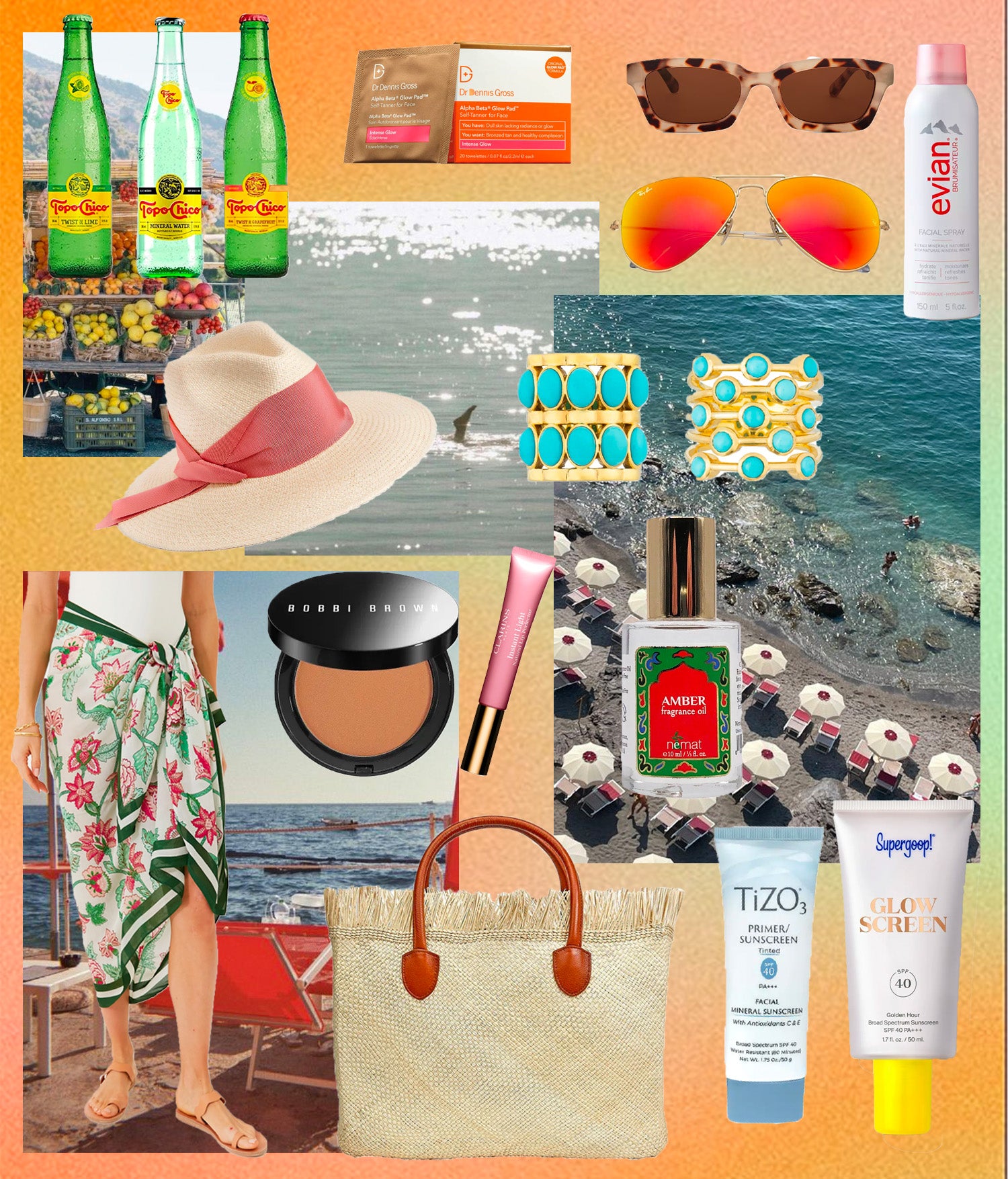 As summer approaches, all I dream about is traveling somewhere warm! I am hoping to get away this summer, and if you are too, I want to share with you some of my favorite items that I always have with me, from accessories to skincare to the best beachside refreshments that you don't want to go without.
Skincare
If you want to feel instantly refreshed after a day at the beach or even as a midday pick-me-up, you need this Evian Facial Mist. It's incredible; I use it morning and night, and it's a great way to set your makeup.
The very best sunscreen that I wear every day, vacation or not! It serves as the best makeup primer, too.
When I want a bit of a tint, the Supergoop! Glowscreen is my go-to. With SPF 40 plus hyaluronic acid and niacinamide, it is excellent for your skin and lasts all day.
Dr. Dennis Gross Alpha Beta Glow Pads
Everyone wants the glow of a tan without the sun's intense rays, especially on your face! These self-tanning face pads are from Dr. Dennis Gross and provide the perfect warmth and glow.
Makeup and Fragrance
My bronzer of choice when I need a little glow on my cheeks to match my tan!
This lip perfector from Clarins is an excellent sheer pink gloss that truly is plumping. The shades Candy Shimmer and Rose Shimmer are both great colors.
I have found that fragrance oils last much longer than typical perfume fragrances. A little goes a long way with this Amber Fragrance oil. It has been in my rotation for years now.
Jewelry and Accessories
Sazingg is an incredible jewelry brand in Miami, Florida, founded by my cousin! I have many Sazingg pieces that I have collected, but the rings are some of my favorites. These unique layered ones in turquoise could not be more summery. Turquoise is my favorite stone for summer accessorizing!
ASHA woven bags are so sturdy and high quality. This Cabana tote is well worth the investment. I own this one and can't wait to take it to the beach this summer.
Tuckernuck Watermelon Bloom Sarong
I genuinely believe Tuckernuck has everything you need—a gift, a dress, a unique accessory, everything. This sarong and all their Tnuck Beach Collection items are gorgeous; I especially love the pinks and greens in this one.
I love the silhouette and structure of these hats from Kassatex New York. They are hand-woven in Ecuador, and you can pick from five different colors.
The forever classics. Need I say more? I have these in several colors, but no surprise, orange is my favorite.
For a very reasonable price, I love these retro tortoise frames from Revolve. These are a great way to be trendy without such a high investment.
And lastly, Topo Chico. Give me every flavor; nothing beats sitting on the beach with an ice-cold Topo! What are some of your favorite things to bring on vacation?